El Pilon Fort Myers
Get 10% OFF your first online order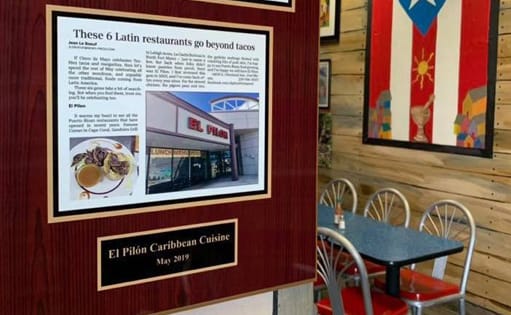 Home is never far away when you eat at El Pilon Restaurant. We specialize in those savores you know and love, the ones that remind you of Abuela's cooking. It's the perfect place to have a meal together with your family. Our specialties range from mofongos and alcapurrias to homemade pasteles and crispy roasted pork.
We pride ourselves in our excellent customer service and are committed to making your experience with us an absolute treat. If it's your first time eating with us, don't be shy and ask our team for recommendations. You'll love our authentic recipes and the savory comfort foods that remind us all of Puerto Rico. Bienvenidos a la familia.
Order Online
Getting your favorite Caribbean Cuisine delivered to doorsteps has never been so easy. Now you can order delivery or pickup online and avoid waiting on hold or repeating your credit card number over the phone.
Here at El Pilon Restaurant, we want to make things as convenient as possible for you. That's why we offer 10% OFF your first order when ordering online, just use promo code: WELCOME at checkout.
Order directly from our Website and enjoy ordering our delicious food today. We pledge that your order will be right and right on time.